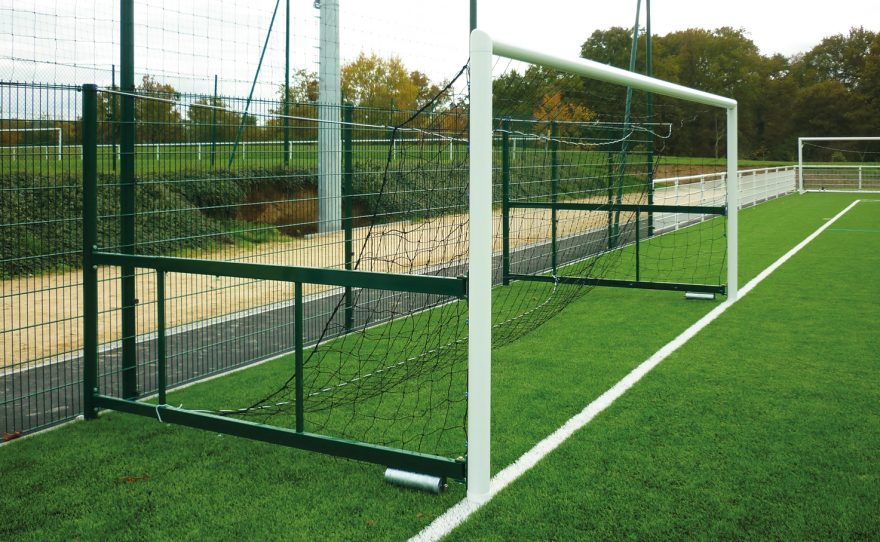 8-a-side foldable football goal – San Siro
Metalu +
Great net tension
Junction in moulded aluminium
100% plastic-coated finish
Intensive use
Technical description
The Metalu Plast San Siro 8 players a side foldable in football goal is available in plastic-coated steel with round profile Ø 102 mm or in plastic-coated aluminium with round profile Ø 102 mm for size 6 x 2.10 m. For the 5 x 2 m model, the structure is made of plastic-coated aluminium with a round profile Ø 102 mm.
The depth of these goals is adjustable from 2.15 to 3.5 m or can be customized on a fixed frame on request. The Ø 80 mm rear masts are supplied with their sealing sockets. Electrogalvanized steel rollers 300 m long allow the goals to be folded down or deployed very easily and the pivot axis is in the sockets.
The net is fixed to the upright and the crossbar of the goal by nylon hooks that can be clipped into the aluminium slide or screwed into the steel profile.
Contact us to get the San Siro folding football goal prize.
Size
FFF regulation: 6 x 2.10 m
European standard NF EN 748: 5 x 2 m